Due to conflict, Qusay and Shadi were forced to leave homes, their friends, and their schools behind. Millions of children like them have missed out on an education because of war.
No child should be unable to go to school.
Since 2021 we've been working with a local organisation, Sawaad'na Al Souriya, based in Northern Syria. They work in some of the regions most impacted by the war, such as Damascus, eastern Ghouta and Homs. After more than ten years of conflict, the overall levels of violence may have decreased, but the children in the North of the country are trying to deal with the repercussions of years out of school. Now, people are left to deal with the trauma of war, and are struggling to get by due to a rapidly deteriorating economy.
To support the generation who will be rebuilding the country, Sawaadn'a are helping 200 young people go back to school. Without their support, many of these children would face uncertain futures. There is so much more to be done to protect children's education in places torn apart by war. That's why we're committed to supporting local organisations like Sawaad'na get children back into school and ensure that a generation of education is not lost. 
Qusay and Shadi are two young people supported by Sawaad'na's back to school initiative.
Qusay's story
"I like football and theatre; I dream to be an astronaut in the future."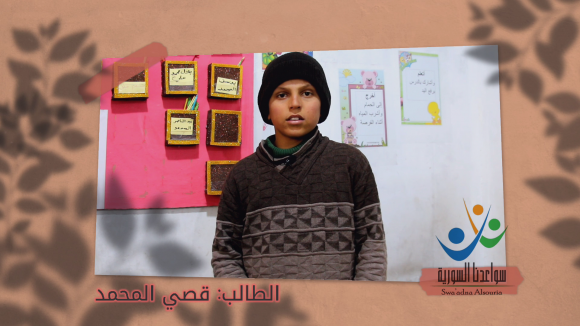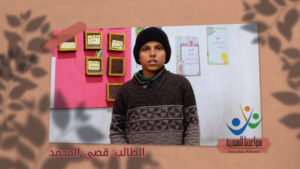 Qusay is 12 and from Syria. The civil war forced him and his family from their home in the east of the country.
They began a new life in the northern city of Aleppo. But like thousands of Syrian children, Qusay had missed out on school and risked falling behind. But thanks to the Sawaad'na Alsouria Centre, he's been able to return to school and pass his exams.
For Qusay, school has become a welcome distraction from the conflict in his country. He's feeling inspired, and he told our partner that one day he dreams of seeing the earth from space as an Astronaut.